This is a difficult time so there is no pressure on parents to do any of these activities. There is enough stress added to many households as it is. These are just suggestions if you want them…there are activities for all age groups so just pick and choose… but don't forget to try and slot some reading time into your day!
If you partake in the activities I would encourage you use a copy and keep everything you do each day in the one copy. Maybe you can show all your work to your teacher when you return to school!
Wake Up with exercise! (or do it anytime)
You can do P.E. with Joe (30 min) live every morning or use the video of the previous day I have put here for handiness.
Younger pupils might like to do Cosmic Kids Yoga (This ties in with the Three Little Pigs debating activity today in English)
Early fine motor skills for younger children
Aistear (learning through play for 3-6 year olds)
Here are yesterday's activities which you still can work on
English activities (select according to class and ability)
Focus on one rhyme this week of your choice
Click on the link below to access different rhymes…
Day three activities for junior classes
Debates for all classes
Once discussed orally and vocabulary used in the correct context, middle and senior pupils can adapt this to a written activity…persuasive writing. They choose one side of the argument and try to persuade others why chewing gum should/ or should not be allowed in schools. Can you use any of the words of the day that you have covered so far e.g. catastrophic?
English 'Words of the Day' (WOTD)
Expand your child's vocabulary daily with the Word of the Day. Revise the words you have learned already under this theme and try and use them!
Junior classes: There will be a post office themed word each day (taken from Nibbler's Aistear Adventures)
Middle classes: There will be a 'pirate' themed word each day. (Taken from Language for Living box 2)
Senior classes: There will be a 'volcano' themed word each day. (Taken from Language for Living Box 3)
An talk and discussion sheet incorporating the different themed words of the day will be given after 15 words (3 weeks)
To do:
Introduce the new word daily, discuss it and put it into a sentence. Plan for the use of this word throughout the day, in written work or orally. Display the word in a prominent place for your child to see it, creating a word wall. Revise the growing bank of words daily to ensure retention to long term memory. Once a bank of 15 themed words have been covered (after 3 weeks), I will post a Talk & Discussion sheet for each theme.
English Vocabulary for all classes (Hair revision from yesterday)
It can be rather entertaining (older children) to look up hair styles like the beehive, the mohican, bald spots and receding hairlines…(though dad may not find it as funny!)
GAME: Practice sight words you child has covered at school
Irish activity
Day 3: Future tense of 'Téigh: to go'
Can you say the 'Téigh' chant any faster today?
Maths (Junior classes) Number 2 today
Table facts for this week
Addition table fact's for this week – addition 2's
Beware I have made this song up myself (it was meant to just be for kids' ears alone at school!) but I find by singing it helps them retain the number facts. Play it a few times and encourage your child to join in. It may help to write the facts of a sheet of paper for them as they song. It starts loud…so lower your volume!
Multiplication Tables for this week x2
Practice singing them over and over again. If you know them, you could try writing them out.
Go through your tables today and time how quickly you were able to say them. Draw a clock like I have done here and record your time for every day. You will soon notice your self getting faster. This can be used for multiplication and addition table facts. Keep up the fab work!
Maths: Money (Learn by doing activity)
Maths 'Scrabble card'
Math 'riddles' for senior classes
History (research/ art)
Continuing with more research on the Egyptians today, this can just be an art activity for younger pupils with maybe one/ two new pieces of information about Egyptians. Older pupils can research themselves or use the video below.
Link to Tutankhamum facts below
Video on king Tut
Outdoor activity
Art
See the link below for Bryan Collins. Children can use some of these images for inspiration. Pupils in our 5th and 6th did this art and really enjoyed it.
For fans of G.A.A who are missing their training…
Heroes of G.A.A colouring pages can be downloaded from the link below.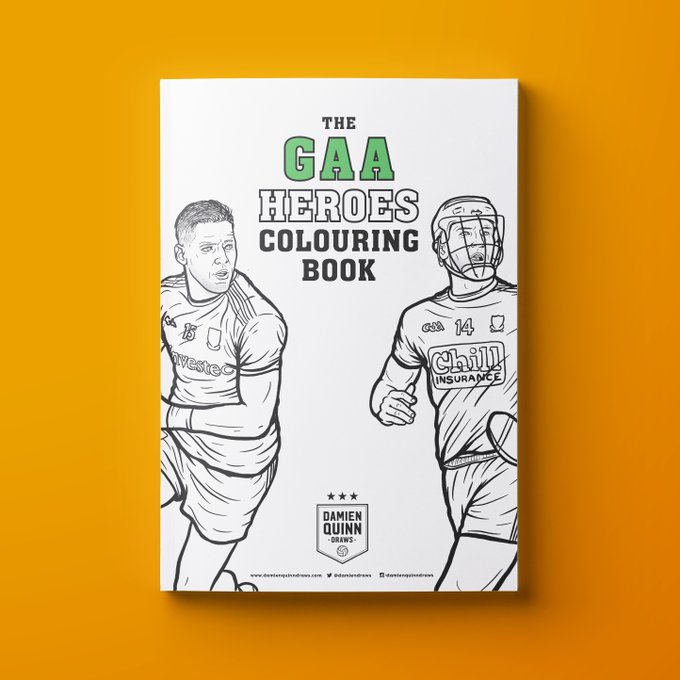 Physical Education: If you don't like P.E with Joe above or Cosmic Kids Yoga, then visit the Official Donegal page on Facebook for some visual skills training videos from the Donegal players. Click the link below for a new video from last week.
Other options from earlier in week
If you have any questions for me, or suggestions that you would like me to include, please contact me.
If you want to message me, please do so on my Instagram account @teacher_julieanne or e-mail me. My details are at the bottom of the 'home' page. I'm enjoying your lovely responses…Show me photographs I can post! (I'll block children's faces and mention no names! It's lovely to share at this time.
Keep safe. More activities will be posted tomorrow!
Julieanne